Chris Adickes, one of Reveal Risk's newest additions, provides more than just his expertise to our clients. He has a goofy sense of humor, seems to make friends with practically anyone, and comes with plenty of stories. As he was telling me about his time as an MTV and VHI intern in 2000, I learned that one of his college majors was journalism and broadcast television. He also played rugby throughout college for Rutgers University and in a men's club. He eventually went on to coach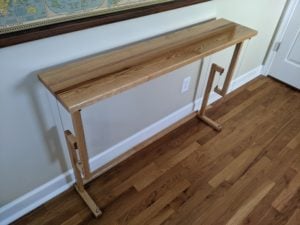 youth rugby. To this day, he feels an instant connection with anyone who played the sport.
The thrill of playing outdoors and exerting physical force translated years later into creating furniture.
"I do it to get away from computers," Chris explained, adding that while he's a very passionate member of the cyber industry, he's always found relief in working with his hands. He builds furniture on the weekends from scratch and sustainably, meaning he cuts down trees himself and plants many in its place. Last year, he cut down four trees and planted 50.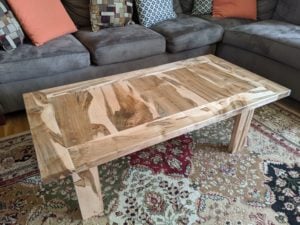 There's no limit to what he creates. He started with making lamps. Now he builds tabletops, frames, cutting boards, end tables –you name it. "It's easy for me to think about what I want to create and be able to build it," Chris said.
He enjoys the fruits of his labor by grilling up a good steak and picking which table he wants to enjoy it from. He can't help wondering how much more room he has left in his house for his creations. Anyone want a table?