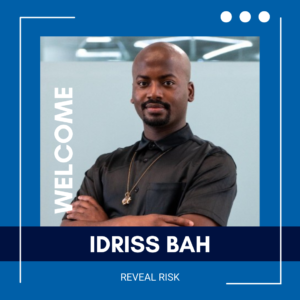 Idriss Bah is a new member of the Reveal Risk team. His passion for cyber security is rooted in his mission to help others. Idriss was born in Sierra Leone, West Africa and moved to the U.S. in 2001. While he spent most of his life living in this country, he recalls the stark contrast between his old way of life in Africa and his new one in America. Here, he doesn't have to worry about the generator providing unstable electricity like his mother did. He also doesn't have to choose between electricity and internet, much like his family did. All he has to do is flip a switch rather than worry about having enough fuel to power essential everyday items.
"If you have a good infrastructure, you can do anything," said Idriss. "You can shop, have a sustainable life, and access all the luxuries other countries have." Access to these luxuries has helped shape everything from his goal to improve the technological infrastructure in West Africa to his affinity for the latest in gadgets and fashion.
"I love coming home to my 4k HDR 120Hz Sony TV and snuggle up under my blanket and escape," Idriss said when describing his favorite type of technology is anything that enhances his home theater experiences. Of course, Idriss enjoys escapism through movies in style. Just like his movie taste, his clothes are colorful and influenced by both West African culture and the LGBTQ+ community.
In many capacities, he's both excited to give his people a chance to have the same opportunities he was afforded and daunted by the idea that he could be seen as an outsider trying to gentrify West African culture. This fear is heightened with the current culture that rejects LGBTQ+ people, which poses real danger for Idriss, a gay man. He desires giving his people the chance to live the lives they deserve to have and have access to the resources that helps them be who they were meant to be. That means helping West Africans rise up in the world and be marketable and competitive.
"I want to approach them in a humble way without making them feel I'm a threat to their way of life and culture," explained Idriss. "I want them to know that I'm still in touch with my roots."
While Idriss is a long way from returning to West Africa, his current path in cybersecurity is paving the way for him and others interested in humanitarian work in the tech sphere. You can learn more about his journey to cybersecurity here.